2-tone medal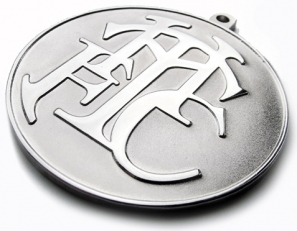 Click thumbnail to view larger picture



Top quality medal with no colour.
Die stamped to your bespoke design on 1 or both sides

To create a subtle difference between the raised and recessed areas of the medal choose either sandblasting or one of the antique plating finishes.
Plated to a finish of your choice.Plating options are nickel or imitation gold.
You can choose to include a loop at the top for attaching to a ribbon or lanyard. The height of the loop is included in the overall dimensions of the medal.
Why not have us supply in a presentation box for the complete finish?
Min qty 100 pcs
If you wish to generate an online quotation or place an order for this product, please log in.
Fittings and Options Available
To view the item in more detail, please click the thumbnail.