printed brass (where you want a gold look to areas of exposed metal)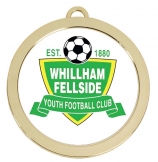 your design is printed onto brass, so any areas of exposed metal such as borders, or indeed an internal part of the design, shine the natural colour of the metal.
where the metal keylines that are required in enamelling cannot be used, then printing is the right choice
printed onto brass and cut to your desired shape
printed in either pantone spot colours or offset
please note that white would be considered as 1 spot colour
coated with clear epoxy to protect the print area
You can choose to include a loop at the top for attaching to a ribbon or lanyard. The height of the loop is included in the overall dimensions of the medal.
why not have us supply in a presentation box for the complete finish?
min order qty 100 pcs
If you wish to generate an online quotation or place an order for this product, please log in.